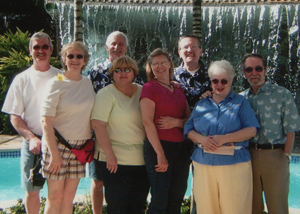 Carnival Cruise to Hawaii
Terry has helped plan and carry through on the last two cruises we took. She is now in the process of helping us plan a 12 day Carnival Cruise to Hawaii for 2008 for our group of 12.
The first trip was a couple years ago for a seven day Eastern Caribbean cruise aboard a Carnival. Because of the problems that occurred, and the way they were handled, we would never consider using anyone else as a travel agent. Due to an ice storm in a connecting airport in Atlanta, Georgia we missed the departure of our cruise ship from Ft. Lauderdale. There was nothing Terry could do to get us to Ft. Lauderdale in time to catch the ship, but she made what could have been a nightmare vacation into a great trip full of great stories and memories.
The next cruise was August 2006 for a seven day Alaskan Cruise aboard the Royal Caribbean Radiance of the Seas. This was a group of six. Fortunately, we had no problems. It was a wonderful trip; everything we expected plus more.
As I said, our next cruise is to Hawaii next year. We've added some new cruisers based on how great our other trips were......this happening because of the excellent, hands-on, 24-hour service from our agent, Terry Sage.